From the Book of Exodus:
Moses said to Aaron, "What did this people do to you that you have brought so great a sin upon them?" And Aaron said, "Do not let the anger of my lord burn hot; you know the people, that they are bent on evil. They said to me, 'Make us gods, who shall go before us; as for this Moses, the man who brought us up out of the land of Egypt, we do not know what has become of him.' So I said to them, 'Whoever has gold, take it off '; so they gave it to me, and I threw it into the fire, and out came this calf!"
(From the Daily Office Lectionary – Exodus 32:21-24 (NRSV) – May 13, 2014)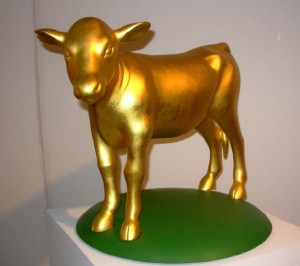 "I threw it into the fire, and out came this calf!"
I chuckle every time I read this story and get to this point. In fact, when the story of the golden calf has been read in church and the reader gets to Aaron's disclamation of responsibility, I've been known to laugh out loud.
Once, years ago, in a bible study group reading Exodus, I asked, "How old was Aaron?" No one knew, but we were all pretty certain that Moses and his brother were not young children at the time of this story. Nonetheless, a young child is exactly what Aaron sounds like: "I threw the gold in the fire, and out came this calf!" No mention of his forming the mold, pouring the molten the gold, breaking the mold, polishing the casting, and all the rest that goes into the making of a metal statue. The calf just "came out."
There was a phantom in our house when my children were very young. We'd find that someone had opened the orange juice and not only taken some, but also spilled a good deal on the kitchen counter and floor. "Who did this?" we would ask. "I don't know," would be the answer. The contents of my wife's purse were spilled there was lipstick smeared on things. "Who did this?" we demanded of the little girl with red all over her face. "I don't know," she told us. Someone once tried to make sand castles in the cat box. "Who did this?" we asked the little boy with sand fingers. With a straight face he replied, "I don't know."
We never caught I Don't Know doing any of these things (or many others), but there was plenty of evidence of his (or was it "her"?) existence. I Don't Know was a very active sprite! Apparently, I Don't Know was much older than we thought. He or she appears to have been with the Hebrews in the desert. — "Who made this golden calf?" — "I don't know. I threw the gold in the fire and out came this calf!"
In the modern adult world, I Don't Know has gotten more adapt at hiding his or her identity. "Who made that decision?" we ask. The answer is often one of I Don't Know's alter egos: a committee, the vestry, the (unnamed) higher-ups, the council, management, the administration. Could it be that I Don't Know is being scapegoated?
Imaginary friends are a healthy part of maturing. Research shows that children with imaginary companions tend to be less fearful, laugh more, smile more, engage more with peers, and are better able to imagine how someone else might think. An imaginary friend can aid a child to handle fear, explore ideas, or gain a sense of competence, but children with imaginary friends will sometimes blame them for misbehavior in an attempt to dodge the displeasure of adult authority. I Don't Know is not exactly an imaginary friend, but disclaiming responsibility and deflecting blame is certainly child-like (if not childish) behavior.
"When I was a child, I spoke like a child," wrote St. Paul, "I thought like a child, I reasoned like a child; when I became an adult, I put an end to childish ways." (1 Cor 13:11) Jesus once told a story about someone who decided to stop blaming I Don't Know. The man in the story "put an end to childish ways" and said to himself, "I will get up and go to my father, and I will say to him, 'Father, I have sinned against heaven and before you.'" (Lk 15:18)
We human beings of all ages when challenged still seem invoke I Don't Know to avoid personal responsibility on a pretty regular basis. Christian maturity, coming (as Paul said) "to the measure of the full stature of Christ," (Eph 4:13) no longer laying things at the feet of I Don't Know is something for which we all need to strive. We need to give up being like Aaron; we need to put an end to childish ways.
Is that going to happen on a general basis any time soon?
I could answer, "I don't know." But the truth is, I think I do.
====================
A request to my readers: I'm trying to build the readership of this blog and I'd very much appreciate your help in doing so. If you find something here that is of value, please share it with others. If you are on Facebook, "like" the posts on your page so others can see them. If you are following me on Twitter, please "retweet" the notices of these meditations. If you have a blog of your own, please include mine in your links (a favor I will gladly reciprocate). Many thanks!
====================
Father Funston is the rector of St. Paul's Episcopal Church, Medina, Ohio.