From the Book of the Prophet Amos:
Amos answered Amaziah, "I am no prophet, nor a prophet's son; but I am a herdsman, and a dresser of sycamore trees, and the Lord took me from following the flock, and the Lord said to me, 'Go, prophesy to my people Israel.'"
(From the Daily Office Lectionary – Amos 7:14-15 (NRSV) – December 10, 2013.)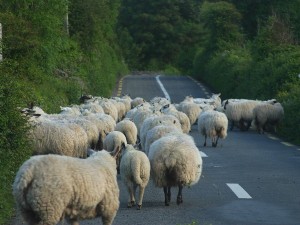 In truth, this is Amos objecting to Amaziah, the priest at Bethel, that he, Amos, is not an official prophet, not a member of one of the recognized or sanctioned schools of prophecy, but the first part of it has always sounded to me as if Amos is protesting his commission to prophesy, trying to get out of doing what God wants him to do. "Hey, that's not what I do! I can't be a prophet because I have these sheep and these figs to take care of!"
Last night I had a dream that I was unexpectedly appointed Archbishop of Canterbury by the Queen of England . . . apparently being an American rather than a Brit was no obstacle, being merely a priest never made a bishop was no obstacle, and there was no problem that the Crown Appointments Commission had no involvement. But I couldn't accept because my cats and my dog couldn't come to Britain with me. What a great excuse for getting out of something I wouldn't want to do, huh? "Hey, that's not what I do! I can't be archbishop because I have these cats and this dog to take care of!"
Advent is a time for conquering obstacles: "In the wilderness prepare the way of the Lord, make straight in the desert a highway for our God. Every valley shall be lifted up, and every mountain and hill be made low; the uneven ground shall become level, and the rough places a plain," wrote the prophet Isaiah (Isa. 40:3-4). It is a time for overcoming objections, for setting aside whatever sheep, figs, dogs, or cats may be our excuses for not doing what we are called to do, for not going where we are called to go.
Sometimes the obstacle to our action is our own ignorance of what the things or the places to which we are called may be, our own failure of discernment. Today on the Episcopal Church's sanctoral calendar is the day of remembrance of Thomas Merton, who wrote this prayer for just such circumstances:
My Lord God, I have no idea where I am going. I do not see the road ahead of me. I cannot know for certain where it will end. Nor do I really know myself, and the fact that I think that I am following your will does not mean that I am actually doing so. But I believe that the desire to please you does in fact please you. And I hope I have that desire in all that I am doing. I hope that I will never do anything apart from that desire. And I know that if I do this you will lead me by the right road though I may know nothing about it. Therefore I will trust you always though I may seem to be lost and in the shadow of death. I will not fear, for you are ever with me, and you will never leave me to face my perils alone. (Thoughts in Solitude)
It is Advent! Remove the obstacles in the path and, even if you are uncertain what the obstacles are, or if you are uncertain of the path, move forward anyway. God is with you.
====================
A request to my readers: I'm trying to build the readership of this blog and I'd very much appreciate your help in doing so. If you find something here that is of value, please share it with others. If you are on Facebook, "like" the posts on your page so others can see them. If you are following me on Twitter, please "retweet" the notices of these meditations. If you have a blog of your own, please include mine in your links (a favor I will gladly reciprocate). Many thanks!
====================
Father Funston is the rector of St. Paul's Episcopal Church, Medina, Ohio.