From the Gospel of Mark:
Jesus said: "For everyone will be salted with fire. Salt is good; but if salt has lost its saltiness, how can you season it? Have salt in yourselves, and be at peace with one another."
(From the Daily Office Lectionary – Mark 9:49-50 (NRSV) – April 8, 2014.)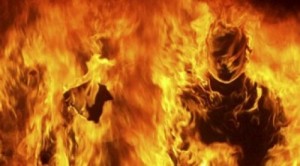 As Mark constructs his version of the story of Jesus, the Lord has just advised his followers to cut off body parts that might cause them to sin saying it is better to enter Heaven maimed than to be thrown into Hell where "the fire is never quenched." To this admonition, then, Mark adds this statement about salt.
Has Mark just taken some disparate sayings of Jesus both of which talk of fire and put them together? That's one theory. Or is Mark accurately relaying a conversation between Jesus and his disciples and, if so, is Jesus suggesting that everyone will be "salted" with hellfire and is he saying that this is a good thing?
The hellfire in question is the fire of Gehenna; the Greek word translated as "hell" in the passage is géennan. This is a reference to the valley of Hinnom, south of Jerusalem, where the filth and dead animals of the city were cast out and burned; thus, it is a metaphor or symbol for wickedness and its destruction.
The "salting" of which Jesus speaks may be simple seasoning, or it may be the use of salt as a food preservative. If the latter understanding applies, Jesus would seem to be saying that everyone will be "preserved" through the purging, the burning away of wickedness and sin. And this makes sense immediately following upon his startling admonition to cut off and dispose of hands, feet, or eyes which might cause one to "stumble."
A common image for living through troubles and hardships is "going through the fire." It's a biblical metaphor drawn from the prophet Isaiah: "When you pass through the waters, I will be with you; and through the rivers, they shall not overwhelm you; when you walk through fire you shall not be burned, and the flame shall not consume you." (Isa 43:2) Another prophet, Zechariah, understood such "walking through fire" to have the purgative and preservative effect to which Jesus seems to be alluding: " I will put [the remnant of Israel] into the fire, refine them as one refines silver, and test them as gold is tested. They will call on my name, and I will answer them. I will say, 'They are my people'; and they will say, 'The Lord is our God.'" (Zech 13:9)
One of my favorite hymns, How Firm a Foundation, includes a verse based on this prophecy:
When through fiery trials thy pathways shall lie,
My grace, all sufficient, shall be thy supply;
The flame shall not hurt thee; I only design
Thy dross to consume, and thy gold to refine.
I believe it is to this "refining by fire" that Jesus' deceptively simple statement, "Everyone will be salted with fire," refers. At one time or another, everyone will be "salted" with hellfire, and as troublesome and even painful as that may be at the time, it is a good thing.
====================
A request to my readers: I'm trying to build the readership of this blog and I'd very much appreciate your help in doing so. If you find something here that is of value, please share it with others. If you are on Facebook, "like" the posts on your page so others can see them. If you are following me on Twitter, please "retweet" the notices of these meditations. If you have a blog of your own, please include mine in your links (a favor I will gladly reciprocate). Many thanks!
====================
Father Funston is the rector of St. Paul's Episcopal Church, Medina, Ohio.