From Luke's Gospel:
Jesus entered Jericho and was passing through it. A man was there named Zacchaeus; he was a chief tax collector and was rich. He was trying to see who Jesus was, but on account of the crowd he could not, because he was short in stature. So he ran ahead and climbed a sycamore tree to see him, because he was going to pass that way.
(From the Daily Office Lectionary – Luke 19:1-4 (NRSV) – November 28, 2012)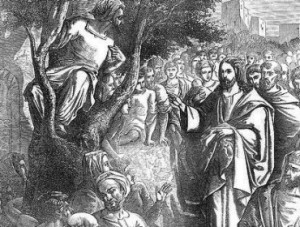 Zacchaeus climbs a tree to see Jesus. So today's reading got me thinking scattered thoughts about trees. The weeping willow in my childhood backyard. The peach and cherry trees in my grandfather's garden. The pinion pines of my native Nevada. The eucalyptus trees that were everywhere on my college campus. The huge ornamental pepper tree that shaded the first house my wife and I bought. I close my eyes, think of those trees, and I see my parents, my childhood friends, my college roommates. Trees are filled with meaning and memory; they bear the fruits of remembrance.
Zacchaeus hung in a tree to see Jesus. It won't be too long before Jesus will be hung on a tree. Paul will write to the Galatian church, "Christ redeemed us from the curse of the law by becoming a curse for us – for it is written, 'Cursed is everyone who hangs on a tree.'" (Gal. 3:13)
The tree Zacchaeus climbs is a Ficus Sycomorus. This tree produces an edible fruit, an inferior fig which the poor gathered. When I think of trees bearing fruit, I sometimes remember my grandfather's peach and cherry trees. I sometimes remember the orange orchards around my parents' retirement home. I sometimes remember the apple trees in my yard in Kansas that enticed my neighbor's cows to break down the fence. And I sometimes remember a song sung by Billie Holiday; I remembered it as I thought of Zacchaeus and Jesus and the trees on which they hung. The song is entitled Strange Fruit and concerns the lynching of blacks in the American South:
Southern trees bear a strange fruit,
Blood on the leaves and blood at the root,
Black bodies swinging in the southern breeze,
Strange fruit hanging from the poplar trees.

Pastoral scene of the gallant south,
The bulging eyes and the twisted mouth,
Scent of magnolias, sweet and fresh,
Then the sudden smell of burning flesh.

Here is fruit for the crows to pluck,
For the rain to gather, for the wind to suck,
For the sun to rot, for the trees to drop,
Here is a strange and bitter crop.

Words by Abel Meeropol.
The tree on Calvary bore a strange fruit, too. It bore the fruit of salvation. Because of that fruit, in a few weeks Americans will place trees in their homes (if they haven't already) to commemorate the birth of the One who hung on that tree and offered that fruit to all. Those evergreens in American homes will also bear fruit. The fruit of good will, of families gathered in love, of traditions and family customs. Some will bear bitter fruit; not every family gathering will be happy, not every family will join in love. Families, like trees, bear different kinds of fruit, some good, some not so good, some downright bad. But the fruit borne by the tree on Calvary is for all, and that's why we bring trees into our houses at Christmas. Those trees, like Zacchaeus's sycamore, help us to see Jesus.
Scattered thoughts about trees. Trees fill our lives and we seldom notice them, but they bear all sorts of fruits. Strange fruits. Fruits of emotion and memory. Fruits of salvation. Zacchaeus climbed a tree to see Jesus.
====================
A request to my readers: I'm trying to build the readership of this blog and I'd very much appreciate your help in doing so. If you find something here that is of value, please share it with others. If you are on Facebook, "like" the posts on your page so others can see them. If you are following me on Twitter, please "retweet" the notices of these meditations. If you have a blog of your own, please include mine in your links (a favor I will gladly reciprocate). Many thanks!
====================
Father Funston is the rector of St. Paul's Episcopal Church, Medina, Ohio.