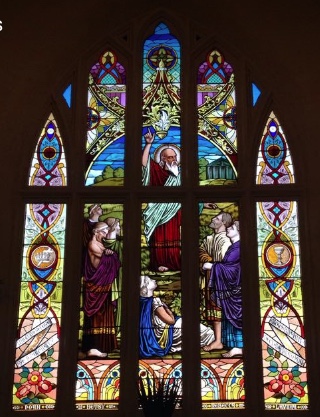 Fifteen years ago when I came to Medina for the first time in my life to meet the people of St. Paul's Parish and, with them, make the mutual determination whether our life-paths were to converge, Earl and Hildegarde picked Evie and me up at the Cleveland airport. They first took us to Yours Truly Restaurant where we had a bite of lunch and then they brought us here, so that we could see the church.
I walked into this worship space and, quite forgetting that the patron saint of the parish is Paul the Apostle, I looked up at the altar window and I thought, "Why do they have a stained-glass window of Socrates?" As some of you may know, there is a bust of Socrates by the Greek sculptor Lysippus in the Louvre museum in Paris that the man in that window looks a good deal like; I suspect the 19th Century artisan who made that window took it as his inspiration. Of course, it's not Socrates in the window; it's Paul holding forth amongst the philosophers of Athens at the Hill of Mars, a story told by Luke in the 17th chapter of the Book of Acts.
Nonetheless, I thought of Socrates and our window this week as I contemplated this Sunday's lessons, two of which (the prophecy of Isaiah and the Letter of James) discuss the ministry of teaching and one of which tells the story of Jesus' instructing the Twelve.