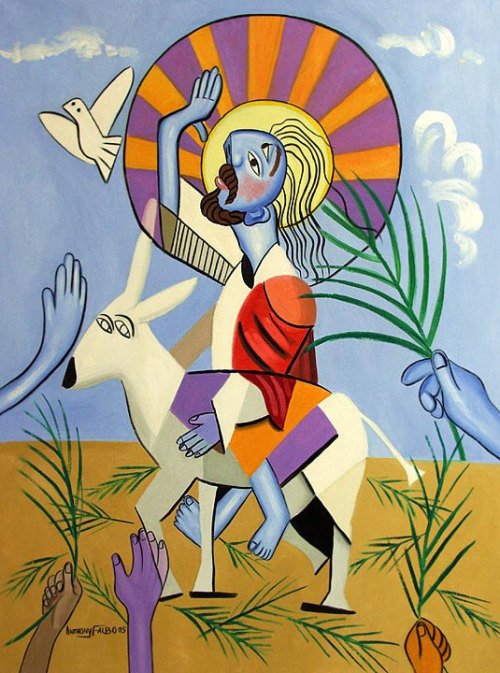 Today we are commemorating Jesus' entry into Jerusalem at the beginning of the week that would culminate in his death on the cross of Calvary. Somewhat contrary to common sense, this has come to be called the "triumphal entry." I don't know who first applied this term to Jesus making his way from Bethany and Bethphage, through the Kidron Valley, also known as the valley of Jehosophat or the valley of decision, into the holy city. I've often thought that whoever it was must surely have been a master of irony, or perhaps of sarcasm, for the procession was anything but a triumph!
Two scholars, Marcus Borg and John Dominic Crossan, have suggested that much more than a fulfillment of the Zecharian prophecy that the messiah, the king would come gently bringing salvation, riding on a donkey's colt,[1] Jesus' parade was a mockery of the Roman tradition of military parades, particularly the sort Pontius Pilate might have used to enforce imperial domination.[2]
To appreciate their suggestion, it's necessary for us to understand the nature of these parades. We have a word in English, triumph, the adjectival form of which we apply to Jesus' parade, which we use and understand as a synonym to the word victory. But it derives from the name of a particular sort of military parade practiced by the Romans, the triumphus. In Roman tradition, the triumph happened after a victory was won, but only in Rome, only after certain victories and only for certain victors. It has been said that the triumph was "one of the most dazzling examples of the theme of spectacle in Roman culture," imbued with "theatricality" and designed primarily to persuade its audience of the greatness of the conquering general and of Rome itself.[3]