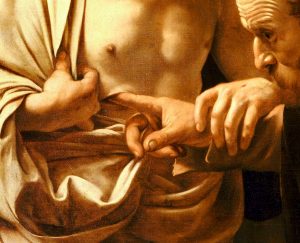 Every year, for as long as any of us can remember, on the Second Sunday of Easter the church has told the story of Thomas, Thomas the Doubter, "Doubting Thomas" who wouldn't believe that Jesus had risen, the poster child for those who are uncertain. But, believe me, Thomas gets a bad rap! He was no worse a doubter or disbeliever than any of the others, including Peter!
Consider this from the end of Mark's Gospel:
Now after he rose early on the first day of the week, he appeared first to Mary Magdalene, from whom he had cast out seven demons. She went out and told those who had been with him, while they were mourning and weeping. But when they heard that he was alive and had been seen by her, they would not believe it. After this he appeared in another form to two of them, as they were walking into the country. And they went back and told the rest, but they did not believe them. Later he appeared to the eleven themselves as they were sitting at the table; and he upbraided them for their lack of faith and stubbornness, because they had not believed those who saw him after he had risen.[1]