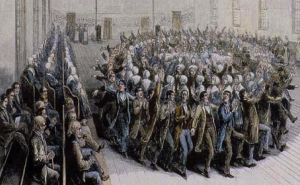 The collect for today from The Book of Common Prayer:
Grant us, Lord, not to be anxious about earthly things, but to love things heavenly; and even now, while we are placed among things that are passing away, to hold fast to those that shall endure; through Jesus Christ our Lord, who lives and reigns with you and the Holy Spirit, one God, for ever and ever. Amen.[1]
On the positive side, the side of "things heavenly," there is what James calls the "wisdom from above [which] is first pure, then peaceable, gentle, willing to yield, full of mercy and good fruits, without a trace of partiality or hypocrisy."[2] On the negative side, the side of "things that are passing away," there is "wisdom [which] does not come down from above, but is earthly, unspiritual, [and] devilish."[3] The text from Jeremiah and the Gradual Psalm remind us what this sort of "negative wisdom" leads to. How do we learn wisdom and how do we learn to choose one sort over the other?
One way, of course, is from our elders. We learn by watching them, by listening to them, by doing what they do. Sometimes that's good, sometimes not so good, but as the old saying goes, apples don't fall far from the tree. For most of us, the ways we do things, the ways we make choices and decisions, the ways we react the world around us are pretty much the same ways our parents or grandparents did. I know I'm not alone in having those moments when I hear myself saying something and then think, "O heavens! When did I turn into my father (or into my mother)?" In fact, there's now an insurance commercial about that![4]
But the world changes rapidly and we don't always find ourselves in situations where the "wisdom of the elders" can be used. We face new contexts and different challenges; we deal with a reality that they never encountered.
My parents and my wife's parents, all now sadly passed away, were all born in the first two decades of the 20th Century. The Wright brothers flew their plane at Kitty Hawk, North Carolina, just 14 years before my father-in-law was born, 16 years before my mother's birth. Look what happened to the air transportation and space flight during the course of their lives. Look what has happened in the world of business and personal communications in that same time, cell phones, smartphones, the internet, Facebook, Twitter, Instagram, and all the rest.
I heard on the radio driving in this morning a comment about Yuri Gagarin, the cosmonaut who was the first man to orbit the earth. According to the commentator on the radio, Gagarin was born and raised in a mud hut without electricity. Look at the changes in his life! From very pre-industrial beginnings to flying in outer space!
The world has changed and continues to change dramatically in just the span of lives, and the wisdom of the early 20th Century is often woefully inadequate in dealing with the 21st Century.
Sometimes we humans can't deal with change, particularly when it comes at us rapidly as it has in these past several decades. Our reaction is often to try lock things down, to try to stop the change. But we can't really do that; the world changes anyway. Wisdom, the right kind of wisdom, the "wisdom from above" as James calls it, recognizes that. It is, he says, "willing to yield."[5] Earlier in his letter, in fact in its very first words, James writes, "My brothers and sisters, whenever you face trials of any kind, consider it nothing but joy, because you know that the testing of your faith produces endurance."[6] For James, it is a simple thing: "Humble yourselves before the Lord, and he will exalt you."[7]
James understands, and he wants his readers, you and me, to understand that nothing is ever locked down, that change can never be stopped, it can only be embraced; for James this is as true for changes in ourselves as it is for changes in the world. In this letter, James is writing to the whole church. Unlike Paul's letters which were written to particular congregations to solve particular problems, James's letter is a "catholic epistle," written to all Christians in every place at every time. Therefore, it is addressed to people who are in different and widely differing circumstances, to Christians who are at different stages of spiritual maturity. But the author is able to address each of us, no matter where along the journey we may be, because even our faith is not locked down.
Conversion to Christ is not a one-time thing; it is an on-going, life-long process. We aren't brought suddenly in a blinding instance from darkness fully into the light so that everything before some point of conversion is left behind and all ambiguity removed. It just doesn't work that way. Conversion is an on-going process. Every day we have to leave behind our anxieties about earthly things, and learn again to love things heavenly; every day we have to turn away from the wisdom from below, from envy and selfish ambition, from disorder and wickedness, toward the wisdom from above, toward peaceableness and gentleness, toward simplicity and mercy.
I spend some time each day in prayer and one of my favorite resources is the book, Celtic Daily Prayer[8] from the Northumbria Community in northeastern England. In it are readings for each day of the year. One of the recent readings was taken from another book entitled Hebridean Altars: The Spirit of an Island Race[9] by a Scots Presbyterian minister named Allistair Maclean:
When the shadows fall upon hill and glen;
and the bird-music is mute;
when the silken dark is a friend;
and the river sings to the stars:
ask yourself, sister,
ask yourself, brother,
the question you alone have power to answer:
O King and Saviour of all,
what is [your] gift to me?
and do I use it to [your] pleasing?
That is a wonderfully wise, spiritually simple question to ask everyday, a question which each of us is only able to answer for him- or herself in prayerful conversation with God: What is God's gift to me and do I use it to God's pleasing? It is a question which can help us to turn from earthly things, from envy and ambition and disorder and wickedness, toward heavenly things, toward peace and gentleness and mercy. It is a question which we, God's children, should ask everyday in prayerful conversation with the Father.
In today's Gospel lesson from Mark, when the disciples are arguing amongst themselves about envy and ambition, Jesus took a little child and put her in their midst; Jesus took the child in his arms and said to them, "Whoever welcomes one such child in my name welcomes me, and whoever welcomes me welcomes not me but the one who sent me."[10] When Matthew tells this story, Jesus also says, "Unless you change and become like children, you will never enter the kingdom of heaven. Whoever becomes humble like this child is the greatest in the kingdom of heaven."[11] In Mark's Gospel he will say this in another setting, "Truly I tell you, whoever does not receive the kingdom of God as a little child will never enter it."[12]
As a child, we look to our elders to learn wisdom; as children of God, we look to our Father to learn the wisdom from above. In that way, we receive the kingdom of God; we enter the kingdom of heaven. In another reading in Celtic Daily Prayer, also from Hebridean Altars, this is the very image presented, the image of a child reaching up to and being lifted up by the Father:
Often I strain and climb
and struggle to lay hold
of everything I'm certain
You have planned for me.
And nothing happens:
there comes no answer.
Only You reach down to me
just where I am.
When you give me no answer
to my questions,
still I have only to raise my arms
to You, my Father
and then You lift me up.
Then because You are my Father
You speak these words of truth
to my heart:
"You are not an accident.
Even at the moment of your conception,
out of many possibilities,
only certain cells combined,
survived, grew to be you.
You are unique.
You were created for a purpose.
God loves you."
In our world today, the search for spiritual answers, the search for religious certainty, the attempt to lock things down does more to divide than it does to unite. It is a misguided quest governed more by the wisdom from below than by the wisdom from above. The wisdom from above does not try to lock down an unchangeable certainty, but rather turns daily to God with childlike simplicity to ask, "What is your gift for me today?"
In 1848, in the spirit of James's epistle and Christ's metaphor of childlike welcoming and faith, Elder Joseph Brackett of the Shaker community in Alfred, Maine, wrote a one-verse song describing a simple children's dance as a paradigm for gaining wisdom. It is entitled Simple Gifts, and these are the words:
'Tis the gift to be simple, 'tis the gift to be free
'Tis the gift to come down where we ought to be,
And when we find ourselves in the place just right,
'Twill be in the valley of love and delight.
When true simplicity is gained,
To bow and to bend we shan't be ashamed,
To turn, turn will be our delight,
Till by turning, turning we come 'round right.[13]
You'll find this song in our hymnal. Will you stand and sing it with me today and then everyday remember to seek the wisdom from above by asking that simple question of God: "What is your gift to me today, and do I use it to your pleasing?" Do that, and I'm sure, you'll "come 'round right." Shall we sing?
====================
This homily was offered by the Rev. Dr. C. Eric Funston on the Eighteenth Sunday after Pentecost, September 23, 2018, to the people of St. Paul's Episcopal Church, Medina, Ohio, where Fr. Funston is rector. (A note of confession: This is a repeat of a sermon preached six years ago, slightly edited. I don't usually repeat sermons like this . . . but this has been a very busy week, and here I am re-using old material.)
The lessons used for the service are Jeremiah 11:18-20; Psalm 54; James 3:13-4:3,7-8a; and St. Mark 9:30-37. These lessons can be found at The Lectionary Page.
====================
Notes:
Click on footnote numbers to link back to associated text.
[1] The Book of Common Prayer 1979, page 234
[2] James 3:17
[3] James 3:15
[4] Commercial – Progressive – Turning Into Mother, YouTube Video
[5] James 3:17
[6] James 1:2-3
[7] James 4:10
[8] Celtic Daily Prayer (HarperOne, San Francisco: 2002)
[9] Alistair Maclean, Hebridean Altars: The Spirit of an Island Race (Wipf & Stock, Eugene, OR:2013)
[10] Mark 9:37
[11] Matthew 18:3-4
[12] Mark 10:15
[13] The Hymnal, According to the Use of the Episcopal Church (Church Publishing, New York:1982), Hymn No. 554