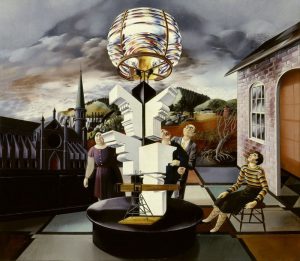 A few years ago, at my former parish, we had a Sunday school presentation in which each of the kids was to recite a verse of Scripture. On little guy came up and just stood there, shuffling his feet and looking very uncomfortable; he just couldn't remember his line… His mother was in the front row to prompt him. She gestured and formed the words silently with her lips, but it did not help. Her son's memory was blank. Finally, she leaned forward and whispered the cue, "I am the light of the world." The child beamed and with great feeling and a loud clear voice said, "My mother is the light of the world."
Today, we have the happy coincidence of celebrating Mother's Day and contemplating another of Jesus famous "I am" statements: "I am the good shepherd." I believe that this coincidence can help us to understand this famous metaphor. Last Monday was the feast of Julian of Norwich, the early 15th Century mystic who was given, and recorded, a series of "divine shewings." In her text, The Revelations of Divine Love, published in modern translation under the title Showings, she wrote this:
The human mother will suckle her child with her own milk, but our beloved Mother, Jesus, feeds us with himself, and with most tender courtesy, does it by means of the Blessed Sacrament, the precious food of all true life.[1]
A clergy person of my acquaintance, following Julian's vision of Jesus as our "beloved mother," recast today's Gospel lesson in terms of motherhood, rather than shepherding.
I am the good mother. A good mother gives her life for her children. A maid, who isn't the mother and isn't related to the children, would see the predator coming and run off, abandoning the children; then the predator can attack the children and harm them. The maid will run off because she is a maid and the children don't matter to her. I am the good mother; I know my children and my children know me, just as the Father knows me and I know the Father: so I give my life for my children. Yet I have children from other houses, and I must care for them too. They'll recognize my voice, and there'll be one home, and one mother.
In our Epistle Lesson, this same Gospel writer, admonishes us, "See what love the Father has given us, that we should be called children of God; and that is what we are."[2]
I don't know about you, but I find the idea of being God's child much more inviting and much more comforting than being a sheep. However, I would suggest that, at the end of the day, the meaning of both lessons is the same.
Gail O'Day, Professor of Homiletics at Candler School of Theology, Emory University, in her commentary on this passage, writes:
The discourse provides the church with a fresh vantage point from which to reflect on community practices. What does it mean for the church to live as Jesus' sheep? What does a church that understands itself as Jesus' sheep look like? How will its identity be manifested in the world? Jesus the good shepherd chose to make his identity manifest to the world through his death. The shepherd discourse calls the church to live out its life according to the model of community envisioned here by Jesus, a model grounded in the mutuality of love embodied in the relationship of Jesus and God.[3]
The very first Christians had an idea what it meant to live as Jesus' sheep and as the children of God. We heard in the First Lesson this morning about the shape of their community:
Now the whole group of those who believed were of one heart and soul, and no one claimed private ownership of any possessions, but everything they owned was held in common. With great power the apostles gave their testimony to the resurrection of the Lord Jesus, and great grace was upon them all. There was not a needy person among them.[4]
I don't want to suggest that the church of today must look economically like the church of the first few years, that we are called upon to own everything in common. However, I do believe that we are called upon to hold one another in the same family-like relationships that that communitarian lifestyle implies, to form a community in which every person is valued.
I was discussing the meaning of the good shepherd metaphor and it's relationship to our understanding of God as parent with a woman who said, "I have three children … if someone were to ask me which was more important to me, I would be unable to answer the question. None is more nor less important, more nor less loved, more nor less cared for than the others." I believe that is also true of the Good Shepherd's love, care and concern for his sheep. Each one is precious and none more nor less so than any other. My friend Elizabeth Smith, who is an Anglican priest in Australia, asks children a question you've heard me ask here: "Do you know how God counts people?" The answer: "One … one … one … one … one … one……" Every one of the sheep is "number 1" to God; that's the same way a parent (whether a mother or a father) feels about his or her kids.
The "good shepherd" metaphor may not mean much to us modern, suburban Americans, but each of us understands what it is to be loved, cared for, and treated as important by a mother. It is a happy coincidence that Good Shepherd Sunday and Mother's Day fall on the same day this year, for the latter helps us to understand the former.
Before I close, let me give you a bit of history about Mother's Day. Anna M. Jarvis (1864-1948) first suggested the national observance of an annual day honoring all mothers because she had loved her own mother so dearly. At a memorial service for her mother on May 10, 1908, Miss Jarvis gave a carnation (her mother's favorite flower) to each person who attended. Within the next few years, the idea of a day to honor mothers gained popularity, and Mother's Day was observed in a number of large cities in the U.S. On May 9, 1914, by an act of Congress, President Woodrow Wilson proclaimed the second Sunday in May as Mother's Day. He established the day as a time for "public expression of our love and reverence for the mothers of our country."[5] By then it had become customary to wear white carnations to honor departed mothers and red to honor the living, a custom that continues to this day. This year, for the first time, I am wearing the white carnation, as are many others.
There is a lengthy piece of anonymous prose on the Internet entitled "For All the Mothers" … I won't read the whole thing here, but let me quote the last two paragraphs:
The world would be a terrible place without the love of mothers everywhere. Mothers make it a more civil, caring and safe place for the precious children in our world. I hope you tell your Mom how thankful you are to have her as your Mom. ….even if she is/was imperfect…(most of us are).[6]
For those of us who can no longer tell our Mothers "I love you" or "Happy Mothers Day" … please tell yours for us. Tell her how much you love and cherish her. Tell her often. Remember, however flawed and imperfect one's mother may be, her love is a reflection of the divine love which is the light of the world.
Amen.
====================
This homily was offered by the Rev. Dr. C. Eric Funston on the Fourth Sunday of Easter, May 14, 2000, to the people of St. Francis of Assisi in the Pines Episcopal Church, Stilwell, Kansas, where Fr. Funston was rector from 1993 to 2003.
The lessons for the service were Acts 4:23-37; Psalm 100; 1 John 3:1-8; and St. John 10:11-16. These lessons are from the Prayer Book lectionary and differ from the Revised Common Lectionary (see The Lectionary Page). The homily, however, focuses on the Gospel lesson which is nearly the same in the two lectionaries (the RCL adds vv. 17-18).
The accompanying illustration is Peter Blume's "The Light of the World" (1932) currently in the Whitney Museum of American Art, New York City. I place it here not because it relates to the text or to the message of the homily, but because I like its critique of industrial modernity. As art critic Ken Johnson wrote in a New York Times article, the painting "sets up … a dialogue about two kinds of faith: in Christianity's God and in scientific and technological progress."[7]
====================
Notes:
Click on footnote numbers to link back to associated text.
[1] Julian of Norwich, Showings (E. Colledge & J. Walsh, translators), Paulist Press, Mahwah, NJ:1978, p. 298
[2] 1 John 3:1 (NRSV)
[3] O'Day, Gail, Commentary and Reflections on John, New Interpreter's Bible, Vol. IX, Abingdon Press, Nashville, TN:1995, p. 673
[4] Acts 4:32-34 (NRSV)
[5] Wilson, Woodrow, Mother's Day Proclamation of May 9, 1914, National Archives, online
[6] Anonymous, For All the Mothers, available at Scrapbook.com
[7] Johnson, Ken, Vivid Visions, Unsettling Still, The New York Times, January 15, 2015